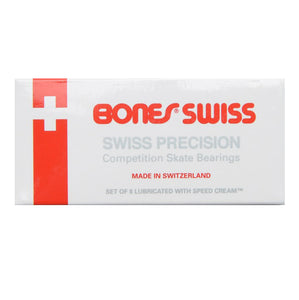 BONES SWISS CERAMIC SKATEBOARD BEARINGS
Bones Swiss Ceramics are some of the fastest skateboard bearings on the market. A winning combination of Bones precision ground and polished races, fiber reinforced high speed ball retainer, Cerbec silicon nitride ceramic balls, Speed Cream racing formula lubricant, and a frictionless, non-contact shield.
The advantages of using ceramic balls are that they are non-corrosive, lighter in weight, harder and smoother than steel, have lower rolling friction, and last longer. This makes Bones Swiss Ceramic bearings accelerate faster, roll farther, and last longer than polished steel ball bearings. If you are looking for the very best, invest in Bones Swiss Ceramics
Pre-lubed with Speed Cream
4 bearing spacers
Instructions
Sticker
.